Maltwin Nutrition Health Drink for kids 100% Malted Barley 2 x 500g Refill Box
500 Maltwin Points will be used to purchase this product
Buy this product and Earn 10.00 Maltwin Points click here to login
Dispatched by 17th June 2020

Not Returnable
| | |
| --- | --- |
| Brand | Maltwin |
| Flavour | Chocolate Bourbon |
| Item Weight | 900 Grams |
| Item Form | Powder |
| Allergen Information | Barley |

Maltwin contains 3x more protein and 30% less sugar than a leading chocolate malt based health drink

Made with 100% Barley Malt Extract

Maltwin comes in premium chocolate bourbon flavour which is tasty and yet it doesn't require any additional sugar which makes it healthier

Contains 24 essential Vitamins and Minerals like Vitamin A, B2, B6, B12, C, D, Calcium, Iron and many more.

Try mixing Maltwin in milk with ice cream, cereal and cakes for great chocolate taste.
Maltwin is a delicious malt-based health drink for children made with the winning combination of Higher Protein, Higher Vitamins, and Lower Added Sugar, to help support the daily nutritional requirements of your children and help them prepare for today's fast-paced world.
Made with 100% naturally malted Barley, this nutritious drink powder for kids works to effectively retain nutrients in an easily digestible form. Unlike most popular malt-drinks that use cereal extracts, Maltwin's naturally malted Barley formula makes everyday milk healthier and tastier with its delicious Chocolate Bourbon flavour. With nearly 50% more Protein than leading malt health drinks, Maltwin keeps children active and energetic throughout the day, in ways that their regular diet may fail to. 
Powered with 24 vital Vitamins and Minerals, Maltwin chocolate drink promotes healthy growth, enhanced brain function and strong immunity and bones. In addition, low sugar and higher fibre content in Maltwin ensures sustained release of energy and a healthy gut.
What is Barley Malt Extract? Malting is a traditional process of soaking grains in water to sprout, dry and cook them. It involves conversion of starches to sugars which aids in sustained energy release. The Malt Extract used in making Maltwin is obtained from 100% Barley Malt, which contains beta glucans that help cleanse the digestive system and maintain a healthy heart by lowering cholesterol. Therefore, this high protein drink, with natural minerals from Barley, can ensure healthy cognitive functions, improved nervous system, and production of red blood cells.
2 glasses of Maltwin health drink in a day can help meet your child's daily nutritional requirements and prepare them to be a winner. Try it today!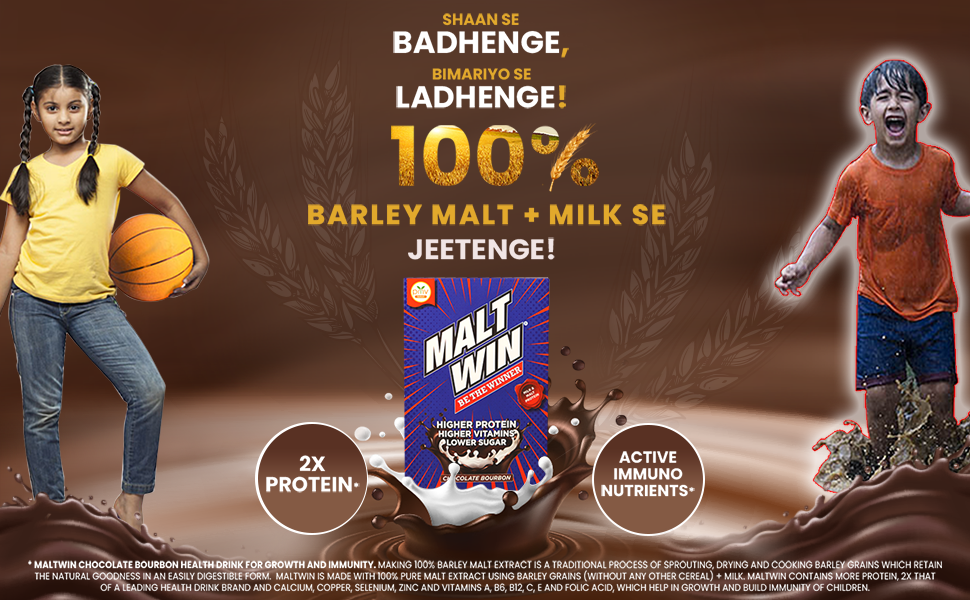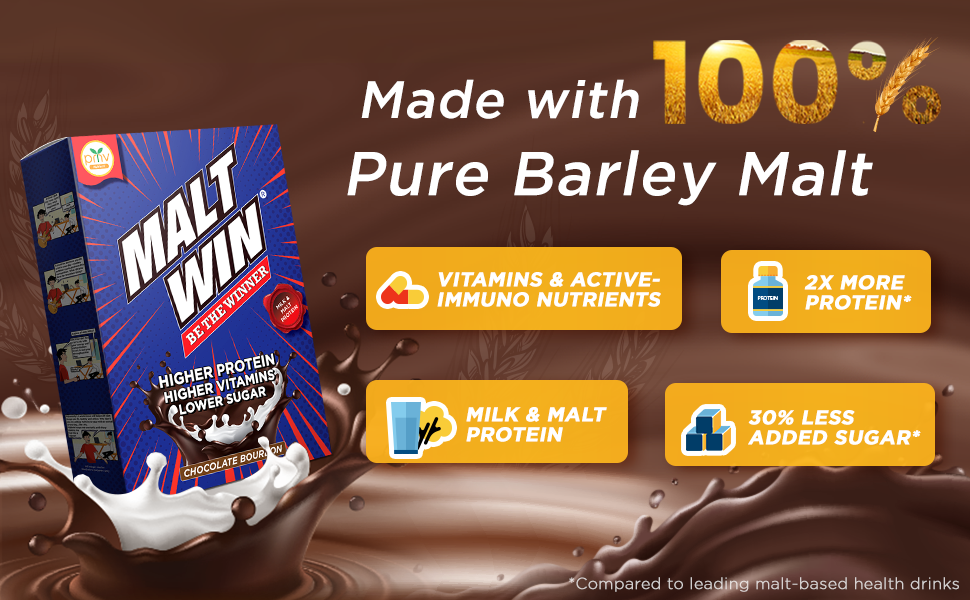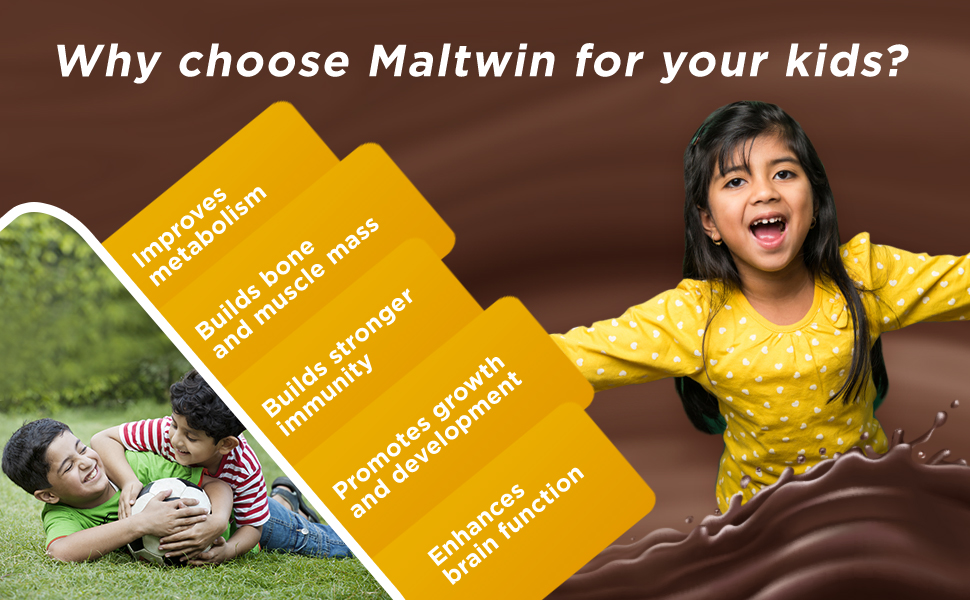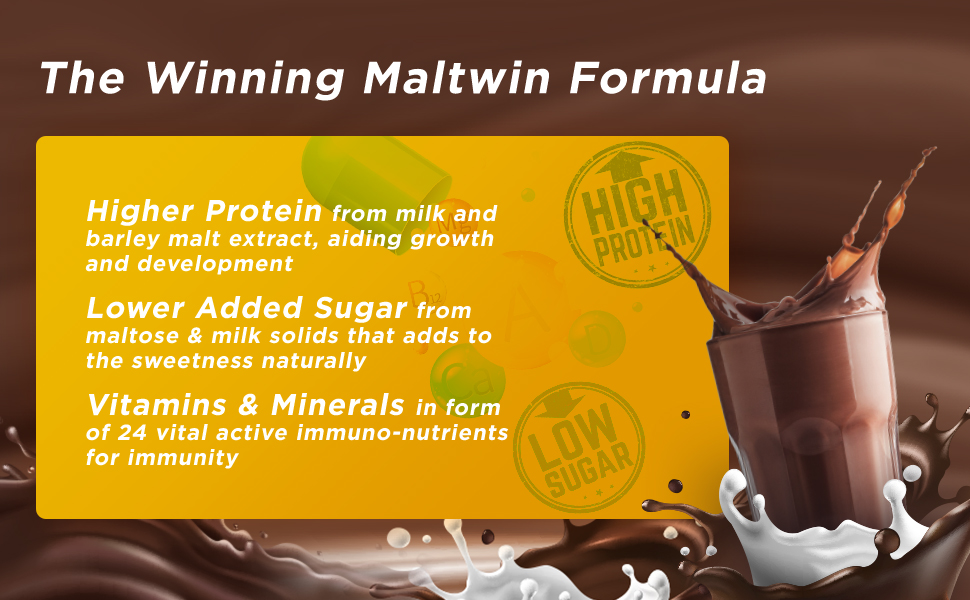 Ingredients: Barley Malt Extract, Milk Solids, Sugar, Cocoa Solids, Whey Protein, Vitamins and Minerals, Acidity Regulators (INS 500(ii), Stabilizer(INS 412), Emulsifier(INS 322) CONTAINS ADDED FLAVOUR (Artificial Chocolate and Vanilla) Allergen: Contains Gluten and Milk
Submit your review to Earn 20 Maltwin Points click here to login